01/08/2020
Meet Monique Costello & Shaun O'Neale!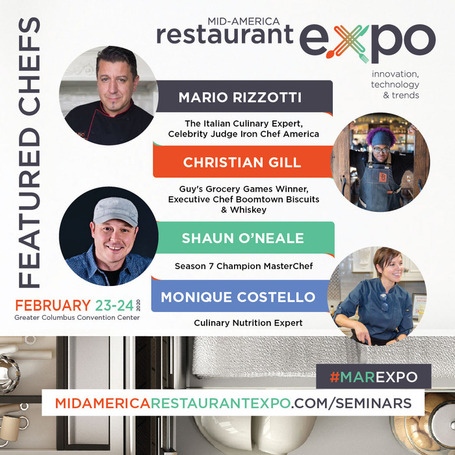 The 2020 Mid-America Restaurant Expo boasts several renowned chefs. We caught up with two, Monique Costello and Shaun O'Neale, for a preview of what's to come at #MAREXPO.
Tell us a little bit about yourself and your history as a chef.
Monique Costello: I started schlepping dishes at age 10 when my dad started a catering company. Not long after that, I opened a cookie company selling monster cookies at a local RV park (as I recall, my parents footed the bill for the ingredients and had to take the park owners out to dinner!). Afterwards I swore off the food business, but eventually opened The Monkey Bean Coffee and Bistro in Denver, Colorado. It became a cherished member of the community, re-affirming my infatuation with the food business.
Shaun O'Neale: I'm self-taught through a whole lot of reading cookbooks and trial and error ... but mainly error. In 2016, I won season seven of MasterChef on Fox hosted by Gordon Ramsay. Since winning MasterChef, I released a cookbook, "My Modern American Table," in 2017 and have spent over 450 days since then traveling the world and appearing at over 120 events in nine countries, 30-plus states and 80-plus cities.
What projects have you been working on lately?
MC: My goal is to help others improve how they feel while not losing the taste and joy they've come to know. That's easy to do when I'm standing next to someone in their kitchen, teaching simple techniques and modifications to make their food more healing, but it limits how many people I can affect. My new online courses can reach more people, is accessible from anywhere and it's like I'm right there. Who couldn't use someone by their side in their health journey? I've also begun hosting retreats that combine vacations with wellness — it's the best of both worlds.
SO: My recent projects include a chef residency at the brand-new MasterChef the TV Experience restaurant in Dubai, where I'll be the featured chef for a couple of weeks at a time. Another new project is a brand partnership with Pit Boss Grills, where I'll be creating exciting new recipes utilizing their incredible lineup of pellet grills. I'll also continue my work with the Macy's Culinary Council and performing at events around the world. Finally, I hope to have my very first restaurant open by Jan. 1, 2021.
What are you looking forward to most at the 2020 Mid-America Restaurant Expo?
MC: This is a new event for me and I'm looking forward to exploring culinary nutrition with an expanded audience. If I can teach just one person to help use food as medicine, then we begin to create a network of healing.
SO: Since I'm in the early stages of planning my first restaurant, I'm very excited to see the new cutting-edge equipment that I could possibly utilize, as well as get a head start on all the future trends of the restaurant industry.
Have you ever presented or participated in a cooking demo at a tradeshow before, and what was that experience like?
MC: The first time I attended a tradeshow was five years ago working with a juicer company, and I completely fell in love with it. The hustle and bustle of industry professionals, the long hours, the camaraderie and non-stop conversation about the power of food with eager and hungry attendees — I'm hooked!
SO: I've appeared at dozens of events around the world and most have included a cooking demo of some sort. I absolutely love being on stage — it allows me to share my passion for food and favorite flavors with people. No matter where you are in the world, everyone loves food and that makes cooking demos special. It truly has the power to pull people together.
What's it like for you to cook for a live audience while also educating them?
MC: Talking and cooking — it's what I do! Being able to show audiences my key techniques while connecting that to how food is information for our bodies is something that helps complete my passion and purpose.
SO: Cooking for a live audience is one of my favorite things to do. Cooking and teaching on TV or online is great, but a live, in-person demo gives the audience the opportunity to ask questions they may not get answered in a digital setting.
Any sneak peaks as to what you'll share with Expo attendees in February?
MC: My cooking is focused on fighting inflammation and soothing the belly, so expect delicious food that also transforms your health.
SO: My Roasted Garlic and Wild Mushroom Risotto is great any time of the year, served by itself or with multiple different proteins ... this dish is a crowd-pleaser.
What's something you want to share with ORA members, which are restaurant and foodservice owners and operators in the industry?
MC: The healing energy properties of food doesn't only happen at home. Customers are becoming more and more informed on health and are seeking and even demanding healthy options when they go out to eat. My goal is to help industry professionals understand ways to deliver on this.
SO: I look forward to sharing my traveling experiences from being in kitchens around the world because everyone has common ground through food.
What's your favorite thing to eat?
MC: I'm currently full-fledged into roasting pumpkins and squash with fresh herbs tucked into their cavities, smeared with maple coconut whipped cream. Savory, sweet, hearty, warming and delightful.
SO: I am a steak guy. Give me a big, salty, tomahawk ribeye, and I'm a happy camper.